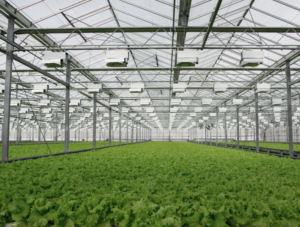 A Netherlands company plans to build 250 acres of greenhouses at the Agriculture Technology Campus in Hampton County, where tomatoes and leafy vegetables will be grown for consumers in the Southeast. Provided
One of Europe's top tomato growers is bringing new life to a Hampton County project that was billed as South Carolina's biggest agriculture-based "Opportunity Zone" venture before the pandemic slowed its progress and forced a trio of partners to pull out of the deal.
Netherlands-based Harvest House plans to build 10 environmentally controlled greenhouses totaling 250 acres as well as a packaging and distribution center at the 1,000-acre Agriculture-Technology Campus off Interstate 95 in rural Early Branch, according to the S.C. Department of Agriculture. Hiring is expected to start next year with production of the first crop of tomatoes and leafy vegetables scheduled for 2024.
"This is a massive greenhouse project, and we really hope it puts South Carolina on the map as far as greenhouse growing and distributing all up and down the East Coast," agency spokeswoman Eva Moore said.
Harvest House, a consortium of growers with its headquarters in the village of Maasdijk, could not be reached for comment last week.
Columbia finance group GEM Opportunity Zone Fund is still the Agriculture-Technology Center's master developer, helping to raise funding for the project located at the Southern Carolina Industrial Campus, according to the state.
"We are completing the design phase and hope to break ground in early 2023," said Zeb Portanova, GEM's chief executive. "Given all the drought and transportation costs associated with bringing vegetables from California and Mexico, we are excited to build the leading hi-tech agriculture center of the United States right here in South Carolina, resulting in pesticide free, locally grown vegetables for over 50 million Americans in the eastern USA."
Zeb Portanova, CEO of GEM Opportunity Fund, holds a bowl of tomatoes similar to the ones that will be grown at the $350 million Agriculture Technology Campus, which was announced in 2020 in Hampton County. File/Provided
Portanova said the Ag-Tech Center is happy to have "secured one of the largest and most experienced growers in Europe" with Harvest House.
Former project partners Mastronardi Produce, Clear Water Farms and LiDestri are no longer part of the center. They did not respond to requests for comment.
Inflation has pushed the project's cost to $350 million, up from $314 million when the Ag-Tech Center was announced two years ago. The center is expected to support 1,370 jobs, down from the 1,547 that were projected in 2020. The S.C. Coordinating Council for Economic Development, part of the Commerce Department, last week cut its commitment to the project to $8 million from $9 million because of the scaled-back job totals. The group also extended the timeline for the project to qualify for incentives through 2030.
The S.C. agriculture department has committed $3 million toward the project's costs and the Ag-Tech Center is eligible for state and federal tax breaks.
"It's great to see this project moving forward in Hampton County with a strong, experienced grower," Agriculture Commissioner Hugh Weathers said in a written statement. "The Department of Agriculture began several years ago to examine the potential for large-scale greenhouse farming in South Carolina. And with COVID, it has taken longer than we expected, but now this operation is poised to add a new dimension to our agricultural landscape."
The involvement by a firm from the Netherlands is not unusual — that country is the world's second-leading agricultural exporter, behind the U.S., and it is seen as a pioneer in indoor growing techniques that use little water or soil and no pesticides.
Indoor farming specialists from the Netherlands spent months last year conducting studies at the Ag-Tech site to determine how its greenhouses can get the maximum benefit from sunlight, humidity and other weather conditions. At the same time, the Southern Carolina Regional Development Alliance worked with local and federal agencies to get permitting in place for the project.
Weathers was among a group of state o.cials who visited the Netherlands in 2018 to learn more about that country's "controlled environment" agriculture.
"We were certainly impressed with the operations that we saw and the amount of output of agriculture in a very small space," Weathers told the Southern Farm Network at the time. "It's exciting to think about where technological innovation can take us in agriculture, and many South Carolina farmers are already using methods that would have been unrecognizable a generation ago."
Reach David Wren at 843-937-5550 or on Twitter at @David_Wren_